In Debt or Indentured Part Eight: Single Issue Voting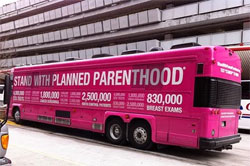 This is the eighth part of a multiple part series taking a deep dive into our current political and economic crisis in America. Partisan politics, unfettered corporate spending and recklessness along with a shift in our social acceptance of debt, is having far reaching and potentially devastating affects on our way of life, on the American Dream. With each installment we will take a closer look at some of the major pieces of this very complex puzzle and try to understand them and bring them into perspective. Use this opportunity to take a broader look on the political and social economic state of America and how each of us, as a small pieces of the puzzle, can make a difference.
In Debt or Indentured: Single Issue Voting
Another reason that the middle class has not unified to demand change from the government and subsequently their employers is that the American middle class has allowed their voices to be divided on the basis of single issues. These types of social issues have dominated American politics starting in the 1980's with efforts to mitigate the effects of the 1973 Roe v. Wade Supreme Court decision that legalized abortion in America. The two major American political parties took strong positions supporting and denouncing legalized abortion in America. Through time there have been litanies of new social issues that have been added to the table to assist in dividing the middle class vote and creating a new type of voter. This new voter will vote on a single issue instead of demanding platforms that address their own personal issues that are affecting their everyday life instead of one single issue that the my only care about because of religious or personal convictions. Some of the issues that currently stifle America middle class voices are: abortion, stem cell research, gay marriage, euthanasia, gun control, and illegal immigration. The interesting thing about single issues or wedge issues is that when either party is in control of congress and The White House, little to nothing is done to change the issue. On the face it appears that there is a lack of political will to tackle such monumental social issues, but politicians on both sides ran with those issues central to their platforms.
There are many example of the bait-and-switch of wedge issues by both Democrats and Republicans. One for the Republican's took place while controlling all of congress and The White House from 2003 through 2007. Almost every elected Republican took a stance in their run for office to work towards the limitation of abortion. Yet during this time period of Republican control, little to nothing was changed to limit abortion in America. This was done even though this wedge issue was used by most Republicans to motivate voters that saw this as a single issue to vote for. The Democrats did the same thing with stem cell research and gay marriage when controlling congress and the presidency from 2009 to 2011. This is sometimes referred to in political communities as pandering to the base or telling the base of the party what they want to hear. Once elected these politicians do not make it a priority to do anything about the issue until close to another election. This maneuver ensures a constant block of voters (mostly middle class) that will come out to vote for their party because the voter cares about this sole issue. This was seen with gay marriage and abortion in the U.S. Presidential Election of 2004 between then President George W. Bush and Senator John Kerry and again in the 2008 election between Senator John McCain and Senator Barack Obama. Even now in the run-up to the 2012 Presidential Elections, the sound of pandering to single issue voters are being displayed by both Former-Governor Romney and President Obama.
Middle Class Divided
The division of the American middle class is important to both major political parties which have unlimited funds now available to them through the Supreme Court ruling in the Citizens United v. Federal Election Commission that classes corporations as individuals protected by freedom of speech through the form of political contributions to individual candidates as protected speech, this reported by Adam Liptak for the New York Times in his article titled, "Justices, 5-4, Reject Corporate Spending Limit." This decision now entitles corporations to spend as much as they like on political contributions to individual candidates (Liptak).  The dissenting Supreme Court justices warn, "allowing corporate money to flood the political marketplace would corrupt democracy" (Liptak). This ruling allows corporations to act as individuals in order further influence elections through money. All though as a corporation it will not be able to vote in that very same election since it is not a person or a citizen.
That's it for this part of In Debt or Indentured. We hope that this has given you some important things to think about. Use some of what you have learned here to look beyond the mere message our politicians are presenting to what the ramifications of these actions has on all of us Americans. Our country started down a slippery slope over a decade ago. We seemed to have stopped the free fall it had become, but do not fool yourself. We are still on the precipice of another long fall. Let's just hope we all can learn, and grow, from the last spill we took.
Check back soon for the next installment of In Debt or Indentured.