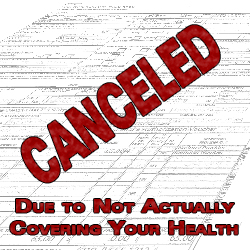 One of the biggest stories going on right now with the rough beginning of Obamacare is the news that hundreds of thousands, and in the coming years, millions of Americans are going to have their healthcare insurance canceled. On the surface, this seems like a huge blow to those that thought that Obamacare was going to help them. The irony is, these cancellations do help them. Here's how:
A large portion of these healthcare insurance cancellations are due to the fact that the healthcare policies that these people have are now illegal under Obamacare. They do not meet the minimum coverage guidelines set by Obamacare, the Affordable Healthcare Act. In fact these people should probably be happy about Obamacare because the new regulations stop these policies from being issued which do not cover what insured Americans think they cover.  In fact, these policies were one of the targets of the new regulation because Americans had these policies, got sick or hurt, and then discovered they were not covered. They would end up responsible for the ridiculously high medical bills when they thought they were covered. Now with the new Obamacare regulations on minimum coverage, the aim is to make sure these healthcare insurance policies actually cover treatment.
Before Obamacare became law, your insurance policy could be canceled if you cost the insurance company too much money. You could then be denied coverage by other insurance companies. If you were lucky enough to find a company that would insure a pre-existing condition, then the healthcare policy would be hugely expensive, effectively forcing you to risk it all, including your own life, that things would be OK. This is not a risk anyone should have to take. Now with Obamacare being law, health insurance companies cannot deny you coverage. And since healthcare insurance is now required by law, that means there will be tens of millions more people in these exchanges keeping costs down for everyone.
It was a major failing of President Obama to be so staunch in his reassurance that everyone could keep the healthcare coverage they already had. President Obama knew that millions of healthcare policies would be canceled. This is a huge disappointment and goes against his promise of transparency. Unfortunately they made the choice to keep it as quiet as possible and decide to deal with the blow back once Obamacare was law. Instead of playing the "branding" game with Republicans he should have prepared America for some of the changes that would inevitably come. So in this sense, the outrage is real and earned. However, this should be tempered by the fact that now millions of Americans are not being actively deceived about the bogus healthcare coverage they had.
The real outrage should be focused at the health insurance companies that sold policies that really didn't cover people. The outrage should be focused at the lifetime payout caps that we once faced. The real outrage should be focused on the broken healthcare system in this country. Does Obamacare fix our healthcare system? No it certainly doesn't. Does Obamacare help make our broken healthcare system a little bit better? Yes it does.
My hope is through these trials and tribulations we as Americans can finally realize just how far behind we are rest of the first world in healthcare. Our healthcare is based off of making profits off the sick and injured, and ignoring the healthy. With Obamacare each one of us is going to pay a little less overall to the healthcare companies. With Obamacare we can let many of our worries go that it is no longer guaranteed to be personal and financial ruin if you get sick or hurt.
However, we as Americans have to realize that our personal health and the prosperity of our entire nation are dependent on how healthy and secure we are as a people. We must realize that healthcare is a right, not a privilege. That cannot happen until healthcare becomes the national defense priority it should be. Only then will we see that socialized medicine is the only sustainable path into a strong future and healthy America.