Supreme Court Circus Continues With Hobby Lobby Ruling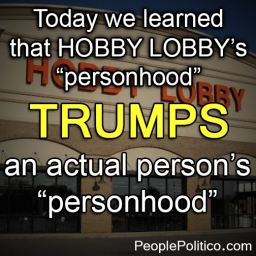 The horrifying implications of today's Supreme Court decision (BURWELL, SECRETARY OF HEALTH AND HUMAN SERVICES, ET AL. v. HOBBY LOBBY STORES, INC.) is an incredible shattering of a women's protection of privacy and personal choice. However, this gut wrenching and mind boggling decision's true repercussions are yet to be fully realized. This awful and obviously flawed decision can easily be construed to now branch off into a myriad of arbitrary "religious or person choices" that a company will be able to impose on its employees. This will open the flood gates for a huge variety of other lawsuits by companies to justify their will to take away rights from their workers. This will also create a flurry of suits and challenges against the ADA. If one part of the ADA can be challenged and overturned such as the mandatory coverage of birth control to do something as opaque as "religious objections" what else can be challenged? The answer, everything can. Using the same belief, because religion isn't logic, people or corporations now have an opening to challenge anything and everything based off of "religious belief".
Not only that, the Supreme Court just ruled that Hobby Lobby can now legally break the law. The ADA was specifically designed to guarantee a certain set of healthcare standards that has been deemed absolutely vital to the health and well-being of American citizens.  This Supreme Court decision states that Hobby Lobby no longer has to FOLLOW THE LAW because they have some kind of vague religious objection. This is truly mind boggling. There is over 50 years of very sound scientific study showing that birth control offers a large array of health benefits, treatments, management, and control. Overall, countries are better because of it.
Taking a look at the entire idea of someone's freedom, we also see the hypocrisy in this decision. People have the right, and the freedom, to make decisions for themselves. This right however, ends with them. They do not have the right to take away the decisions and freedoms of others. This is exactly what this type of decision makes. It says that an employee does not have the right to make decisions regarding their own birth control but the company they work for does. You are not granting freedom when that "freedom" takes away the freedom and choice of another. Simple as that.
The damage that the Supreme Court has been doing to this country is ridiculous. It is now grossly obvious that these majority rulings of the Supreme Court are bought and paid for. Over the last few years they have systematically dismantled a person's rights. When such basic fundamental human rights are stripped so a companies can save a few dollars there can be no doubt that the Supreme Court has failed us. Our democracy has failed us. Our government has failed.
Our only course now is to oust those corrupt politicians that support and praise these decisions that shatter our basic human rights. The people of this country fought, bled, and died to secure basic human rights that are being stripped away one after another. With the completely polarized politics now it is very easy to see the terrible excuses for human beings that support these decisions that take away our rights. These are the politicians that need to be called out and cast out of positions of power. Those that speak out against these atrocities need to be lifted up and put into those political positions to further improve this country.
However, removing corruption from our government is only the beginning of the solution. We must stay informed about those we elect to make this country better. When those politicians begin to falter and cave to the corporate influence we must call them out until they represent the people, not the corporations.
To prosper we must have personal rights, not corporate rights. To prosper we must have free speech, not monitored and metered communications. To prosper we must remove money from politics and put the public back into politics. To prosper we must have a free and independent media, not corporate funded propaganda channels. To prosper we must support and respect one another. To prosper we must have compromise and consensus, not hard lining and bullying. To prosper we must be informed and vote. So please make sure you are registered to vote. If you are registered make sure that those around you are registered. Support the creation of a national holiday on Election Day. The more we vote, the more power we wield. With this power we must change the direction of this country before it is too late.
If you can do more than vote and get others to the polls I would also encourage you to actively avoid going to any stores that support discrimination and the stripping of human rights. Make no mistake: Freedom is having the freedom to disagree and still have the same choices. If enough consumers stop buying their produces and using their services they will be unable to pay our politicians and Supreme Court justices to undermine our personal rights. It is high time we stop paying these companies and corporations to undermine their own employees and customers.