President Barack Obama Weekly Address January 5th, 2013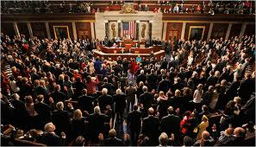 The first weekly address by President Barack Obama was one of good news, kind of. The good news is, Congress was able to pass a OK bill to head off the Fiscal Cliff. However, they definitely kicked a few things down the road. Namely, the Fiscal Cliff and much more budget work that needs to be done. It is great to hear that the tax burden in this country is being more evenly spread. It is also good to see that the GOP can compromise, even when Beoner is not willing to.
The next debt ceiling debate is coming up soon and it is poised to be another repeat of what happened before. President Barack Obama sees this fight coming and is already working to get ahead of that battle.
It was clear what the Debt Ceiling Debacle did to our economy before and it can't be allowed to happen again. Even though the GOP still holds a majority in Congress, here's hoping that they have a little more sense than the last Congress, even by a little. With the last minute save of the Fiscal Cliff, there is some hope this may be true.
President Barack Obama Weekly Address January 5th, 20113 Video