The Cost of a Vote in 2012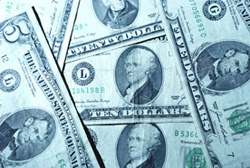 None of us like to think that the millions of dollars spent by presidential campaigns are trying to buy your vote. However, that is in fact the case. So I thought I would take a minute to look into what a vote costs in America today. I was shocked, and I think you will be too, so I'll try and ease you into this a bit. Politics have changed dramatically in the time after the Citizens United Supreme Court decision.
The Supreme Court's decision on Citizens United basically removed all caps on contributions from corporations and unions to political campaigns. It has been widely accepted through our history that money influences politics, corrupts democracy, and takes the power from the people and puts it in the hands of those with money. The Supreme Court's decision put democracy more firmly into the hands of the corporations by allowing unlimited spending on elections.
Spending on elections was out of control before this decision, and now it's incomprehensible, it's a joke, and we the people are the punch line.
There are a few things we need to know about making a rough guess about the amounts of money being spent to win your vote. In most cases they can't actually trade money directly for your vote, so instead they use advertising, media, new outlets,, pundits, the internet, you name it, to get their message and their brand out to you. Unfortunately there is very little regulation regarding the insane and often false things they say to sway you one way or another. When there is regulation, they will get around it by using a 501c/PAC combination to absolve any involvement and responsibility. If you think this is a joke, watch this series masterfully done by Stephen Colbert of the Colbert Report. He actually creates his own PAC, then turns it into a Super PAC, and ends up with a million dollars donated. Really.
PACs have to disclose who gives them money. However, a 501c is a tax-exempt organization that does NOT have to disclose donors. All a person or corporation need do to circumvent the disclosure rules is contribute money to the 501c. The 501c then gives to the PAC and the PAC does what it wants with the money. It's money laundering on a breathtaking scale. A candidate could pour money into the 501c and get it right back through the PAC. Sickening and totally legal.
So now that we know how it's done, let's see how much money it takes to buy a vote.  That's what all the money is ultimately there to do. I've rounded the numbers for ease of understanding. A few thousand here or even a few million there will not make much of a difference in our completely broken election system where billions of dollars are involved.
In 2010, it is estimated that there were about 236,000,000 registered voters. According to this data, we can estimate that the registered voters will increase to 240,000,000 in 2012. Going by prior voter turnout numbers, we can expect 50% or so to turn out to vote in the upcoming Presidential Election. This gives us the first part of our equation: 120,000,000 votes.
How much money is going into getting those 120 million votes? This number is difficult, because campaigns want to keep this number as quiet as possible.  So first we'll look at how much the politicians are raising themselves. This is required to be publically disclosed and it is the number most often reported. Over the last year we can see that a total of almost $380,000,000 was raised by politicians.  We can assume that over the next 6 months the money will flow in faster than in the last year. It is probably conservative to say that this total will reach $800,000,000 by November. Many analysts are saying that campaign spending will easily break a billion dollars. But we'll use $800 million for our calculations.
Next we need to try to determine the contributions to PACs and Super PACs. They are required by law to disclose their finances, but with over 7,500 listed in the Federal Election Committee's database, there are bound to be errors.  To make it easy, we'll use this information. You can find the information here:  http://www.fec.gov/finance/disclosure/srssea.shtml. Adding it all up gets us $1.7 billion from 2010 to 2011. For ease of calculation, we'll round that number down to $1.5 billion to use for 2011-2012. This gives us $3.2 billion for these two years of PAC and Super PAC fundraising.
With no cap on how much money can be contributed to an election, candidates are looking at three to four times the amount of money they had to spend in the past.  They can spend the majority of it on    sleazy ads, misinformation campaigns, robo calls, spamming, and whatever else it takes. And the best part is, the candidates are "completely separated" from the PACs and Super PACs. If someone gets offended or if an ad backfires, the candidate can throw up their hands and claim plausible deniability.
Math Time!
$800,000,000 (candidate money) + $3,200,000,000 (PAC money) = $4,000,000,00 or a cool 4 billion dollars. Easy to remember.
120,000,000 voters.
Now all we need to do is take the money spent on elections and divide that by those who vote. Gravy!
$4,000,000,000 (Money) ÷ 120,000,000 (Votes) = $33 and change.
Well that doesn't sound too bad, you have 33 bucks don't you? So to put in your equivalent support as a citizen of the United States you should toss $33 to who you support.
The problem is that it doesn't work out that way. Our democracy is supposed to form and control our government on a 1 to 1 basis, but now with these new rules we are getting further and further away from the 1 to 1 vote working.
Rich Joe used to be capped at a $2,500 donation. But now he can give his $2,500 personally to the campaign and can also funnel in $1,000,000 or more  from his company, trust fund, dividends or whatever.
Money equals influence in our government, and the increased flow of money from corporations and unions magnifies their influence.
Influence of Donations Before Citizens United
Poor Joe throws in $33 to support his one vote. Rich Joe throws in his $2,500 to support his vote. Rich Joe's influence on his candidate is 75 times more than Poor Joe's. That in itself shows the system was sad, broken, not working as intended.
Influence of Donations After Citizens United
Today Poor Joe throws in his $33 again to support his candidate. Rich Joe throws in his $2,500 and also donates $1,000,000 dollars from his company. Again, Rich Joe's influence is obviously more, but by how much? His influence is now a staggering 30,378 times more than Joe's! This one person/entity now has tens of thousands of times more influence than Poor Joe in the elections.
I don't even know what to think about this. I am disgusted. I am appalled. I am horrified that we allowed this to happen to our country.
With these billions of dollars intended to influence us, and with the mountains of lies about their opponents, and false promises about themselves, it is no wonder our government and our country is screeching to a halt.
We have allowed democracy to be taken away from us. We have literally sold it. We have allowed a plutocracy to take its place.
When the wealthy control the country they do whatever they can to not only increase their wealth but consolidate it. That is exactly what we are seeing now.
With the caps lifted, they can literally spend whatever it takes to convince us they are not doing exactly what they are doing. The facts are in front of us. I have presented many here and you can look for yourself all over the place. We are swimming in the evidence of the fall of our democracy but so many would rather drown than to think about this.
This cannot endure or our country will not. We have already fallen behind because of our broken and crippled system. We are being surpassed by many other countries in almost every sector you can think of. The power has been taken from the common people. We are simply being outbid.
It's time you did your part along with those around you to stand up, speak out and shout out that you want your vote back and demand it can't be outbid anymore.
Sources