President Barack Obama Inauguration Speech Video January 21st, 2013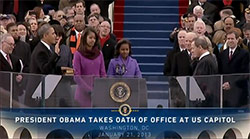 President Barack Obama was inaugurated for his second term as President of the United States on January 21st, 2013. In fact this was the second time he was sworn in(the second time). President Obama was officially sworn in the day before due to the Constitution stating the exact day that new Presidents is to be sworn in. Vice President Joe Biden was also sworn in in this same manner. Anyway, the celebration and all of the pomp and circumstance took place on January 21st in the manner in which tradition dictates. It was a cold but nice day, turning sunny and mild through Washington as the ceremonies took place.
After President Barack Obama was sworn into office for his second term he gave a brief speech to the nation. This time around the speech was more focused on the people and progressive ideas than his first inaugural speech. Instead of a more far reaching speech this second inaugural speech was more focused on the immediate issues that face America and its people.
It's a good speech and I would recommend everyone listen to it whether you voted for him or not. It's important to know where our President wants America to be.
President Barack Obama Inauguration Speech Video January 21st, 2013