Voter Suppression in Politics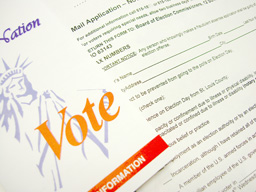 More voter suppression arguments are out there this year and if you ignore the indignity of the voter fraud and just look at the numbers involved, it would be very easy to solve this issue. Especially when you look at the very low numbers involved in actual voter fraud versus legitimate votes getting mixed up, tallied wrong, lost or the myriad of other things. The bottom line is we need to work on getting people out to vote, not stopping those that do vote.
Getting People to Vote
We need to get every single American and dual citizen of voting age to vote every single time. We need to ingrain in our children, in our people, the importance and significance of voting. The quality and functionality of our democracy is directly related to how many of its people are involved, educated, informed and acting on their democratic duty.
I would go as far to say that we should PAY people to vote. Invariably people will pay at least some attention and most have some idea of who and what they want out of life in this country. If you were to offer a $500 tax credit for voting in the general elections, it would greatly increase turn out. Just getting people excited and involved would go a long way to make this a better country.
Personally I find it appalling when the reporters exclaim that we have recently had record-setting voter turnout, and the record-setting number is in the 40% range. That is embarrassing, pure and simple. As the "world leader" in advocating and pushing freedom and democracy, we simply have to do better than that.
So I propose this to you: Make it your mission, as a responsible voter, American, and patriot, to get one person you know to register and vote this year. Let's make those days of seeing 40% of voter turnout something of the past as we tag on 10-20% more.
A Political Fix to a Non-Partisan Problem
With the next wave of voter registration and polling legislation comes another slew of outcries to voter suppression. I understand the basic idea behind the argument; however, the proposed solution is no solution at all.
These pieces of new legislation are meant to tackle the estimated .0002%-5.000% voter fraud that has been reported recently. These numbers vary greatly depending on who, what and where you are looking but with the dozen or so articles, websites and other sources I investigated, the highest was floating around 5% with some as low as .0002%. Part of the reason for this is that we are addressing specifically voter fraud. We are not talking about mistakes in registration, people who have moved from their old addresses, people with the same names, addresses, lost ballots, miscounts, and the myriad of OTHER things that causes inaccurate vote count.
Much of the current legislation that is pending this year revolves around forcing all those that are voting to show valid and up to date photo IDs at the time of voting. This may address the lower end of the vote tally and fraud issues but would leave most of the other horrendous holes and problems with our system in place.
However, legislation to force presenting photo IDs in order to vote is estimated to affect at least 10% of the population that currently votes now, legally and without problems. Many of these voters without photo IDs tend to have lower incomes and are much more likely to vote Democratic than Republican.
This could also affect a much greater number of people that vote from abroad or by mail. Many places have been voting strictly by mail, especially for the smaller elections. If everyone now has to go back to a polling place to vote, won't that decimate the numbers of people who can vote?
Make Voting Easier Not Harder
There is such a small portion of the population that votes fraudulently it has almost no effect on our current system. The numbers show the problem is nearly nonexistent. 80 fraudulent votes in a general election are not going to make much of a difference when we are talking about millions of people voting.
Instead of further limiting a minority group to vote, and making more difficult what should be an easy process and every citizen's duty, we should be empowering all Americans to register and vote.
I'm not so proud to be an American when I find out more people vote for American Idol then in a general election. That is unacceptable and shameful.
What we should be doing is passing legislation to move our voting system from the 19th century into the 21st century. We have an archaic system to pick our representatives and run our country.  We should be embracing the newest, best, and most efficient ways to insure our democracy is protected.
Just think about it: we currently trust so many facets of our lives right now to the technology around us.  Why not support improvements in voting technology as well?
It's easy to say that voting systems can be hacked, of course they can. However, many more people are currently skewing election results with lost ballots, miscounting by hand, going to the wrong polling place, voting as a dead person, you name it. This Pew Research document points out some of the huge flaws we have. Those are the issues that need to be addressed, the problems that need to be fixed.
I know it's not perfect, no system is. However we have the technology, the know how to do it, we just need the will. Change can be scary but using technology and the computer power of America could and would streamline our voting process in ways we can't fully appreciate.
We need to get 10-20% more voters voting. Not reduce the number of valid voters by 10% or more.
Here are some links to some more info and some of the specifics in voting issues around America: