Steven Colbert Super PAC Shenanigans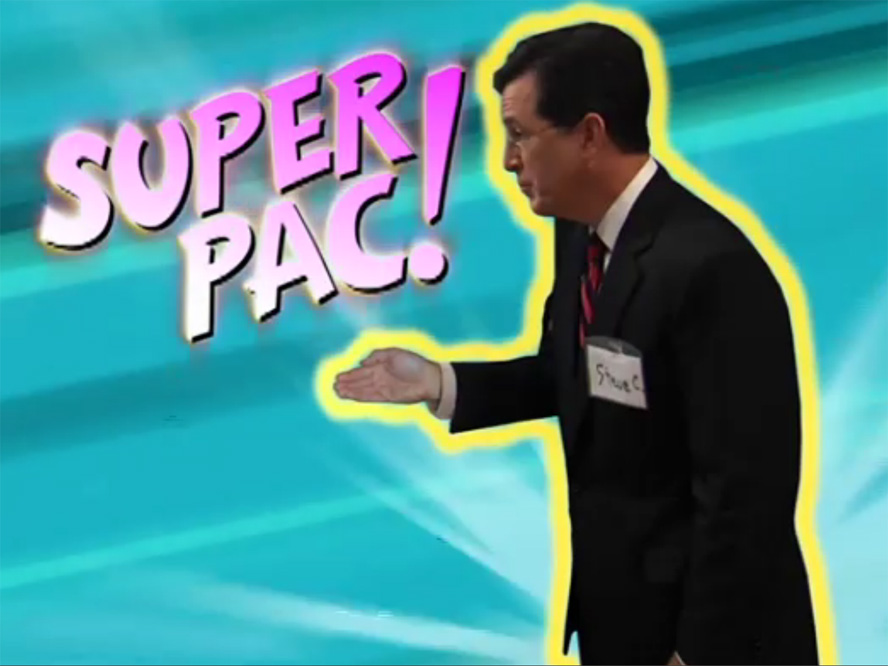 Using the Supreme Court's decision on Citizens United, Steven Colbert, of the Colbert Report on Comedy Central, has legally and legitimately started his own Super PAC.
Over the last several months, he's been working to form his own Super PAC in order to show that he can use the Supreme Court ruling in order to push his own political agenda. Steven Colbert is a comedian and his show is brilliant. What's frightening about this stunt is that it goes beyond satire—he is showing the public exactly how anybody can do this. Because his program is a comedy show, he is not being taken seriously, except by those who truly understand the horror of what he is able to accomplish.
What is the Supreme Court's Decision on Citizens United?
Effectively the Supreme Court ruled that corporations and businesses have the same rights as an individual United States citizen, and that no caps or limitations can be applied to the amount of money they can contribute politically because it limits a company's freedom of speech.
This ruling has effectively given them the ability to amplify their influence on candidates. Companies with millions of dollars to spend to further their own agendas will absolutely take the opportunity to do so, in many respects drowning out or outright buying votes for their corporation and PACs.
What is a PAC (Super PAC)?
PAC stands for Political Action Committee. A Super PAC is just the bigger corporate type of PAC. A PAC is a committee that can be formed by anyone having some kind of political goal or agenda. Anyone can donate to a PAC, and this donation is undisclosed. This can be a donation of 1 cent to 1 billion dollars. Since this kind of political spending does not have to be disclosed it is a perfect and legal way to hide contributions to any PAC that supports your cause or that you yourself have created.
Why is the Citizens United decision and the formation of PACs so detrimental to our democracy?
For years, in fact for 100 years, a Supreme Court ruling has limited the amount of money corporations, lobbyists, and other interest groups can dump into the political system, whether for advertising, campaigning, or directly supporting candidates. The reasoning was that the country and the justices felt that it is important to limit these contributions so that companies and special interests didn't drown out the will of the people. The people, even those that lobby for corporations, all have a vote and already have significant power when determining elections, without the overbearing influence of multi-million or even multi-billion dollar campaign ads, smear ads, propaganda and all of the other ways that voters and elections are influenced.
Now, with the ability to form PACs and Super PACs, the floodgates have been opened for these special interests to pour in as much money as needed to keep the legislation and politicians they want in power. There is a correlation between the amount of money put into an election and the results of the election. The influence was once limited, now it is not.
This decision by the Supreme Court is a new one and we are yet to see the full extent of what unlimited lobbying will do. I cringe to think about the damage we, our country and even our world might endure when faced with such forces as the petroleum industry, which literally has tens of billions of dollars PER MONTH it could potentially sink into campaigns. $10,000,000,000 a month to buy an election, and those that contribute can remain completely anonymous. How can the normal citizen even have a chance to combat such overwhelming funds, coming from questionable sources? And that is exactly the idea of PACs.
So I appreciate what Steven Colbert is doing. He has legitimately created a Super PAC, with his admitted intended use of the money to be completely frivolous. He has clearly stated that he wants a Super PAC so he has more money to have fun. And he actually got his Super PAC, and there are many people giving money to the PAC as we speak!
I think what Steven Colbert is doing is great. He is making Super PACs very public and showing what kind of sham they really are. He is illustrating the kind of shenanigans that he and anyone else could do, with their own PAC. There's no accountability, there is no transparency, if the source of the money is anonymous. Transparency is one of the biggest wishes the American people have for their government. A government for the people is the very foundations that our democracy has to have to function properly. It was never meant for the corporation or special interests with the biggest coffers to have the biggest influence on our elected officials and the bills that become laws.
I hope you are all shocked and appalled that this is even possible. If you haven't gotten to that point yet, watch below and try to understand the insane and horrible consequences that the ruling on Citizens United can, and probably will, cause our democracy. Our government is not supposed to be able to be for sale. But right now, it is.
Viacom Stops Steven Colbert PAC
Forming the Super PAC
Viacom Sends Letter About Super PAC
Viacom Does Not Want Colbert to Start Super PAC
FEC Questions Colbert 's Super PAC
Filing for Super PAC
Colbert's Hearing on His Super PAC
Steven's Victory Forming His Super PAC
So there you have it. He gets his Super PAC. If he can do it, so can anyone else. I know this is supposed to be a joke. The problem is, the joke is on us.