Republican Mitch McConnell Filibusters his Own Fiscal Cliff Bill in One of the Douchiest Moves Ever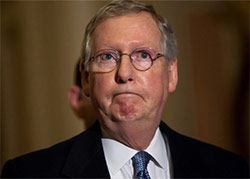 This should make everyone angry (not just Democrats): on December 6, Republican Mitch McConnell introduced a debt ceiling bill, only to filibuster his own bill when Democratic Senate leader Harry Reid calls for a vote on it. This is so insane that I, as many have already, had a hard time even articulating this audacity other than with a primal scream of absolute frustration.
We are doomed; there is no doubt, to go over the fiscal cliff. Like Thelma and Louise we are flying over with Republicans Mitch McConnell and John Boehner driving.
It is as simple as that.
The Senate Republicans can't even pass a bill that was introduced by Republicans. Everyone must understand, the person who made, crafted, created the bill, Republican Minority Leader Mitch McConnell was the one to reject his OWN LEGISLATION! Seriously, what the hell is wrong with him and the Republicans? For the sake of the American people, and our future, this Republican obstinacy has to stop.
How the hell are we supposed to get anything done with this dysfunctional Republican policy of completely and totally blocking anything the Democrats want to do? Even when what the Democrats want to do is accept the Republican legislation!
This must be clear and everyone needs to understand. It is not Democrats and Republicans fighting over what was to be done.
Republicans said we want Mitch McConnell's debt ceiling bill.
Democrats said, OK.
Republicans said they do not want Mitch McConnell's debt ceiling bill.
It was that simple and about that fast, astonishing.
This is precisely the insane shit that needs to be splattered all over the news. Luckily, this was getting some attention because it is so totally and completely insane.
Luckily the American people are smarter and have longer memories then the Republicans want to believe. This last election made it clear that:
Americans watched the Republicans obstruct government.
The American people know it was the Republicans who damaged America by not even trying to come to reason on the debt ceiling talks.
The American people now have seen the Republican Leader in the Senate filibuster his own bill.
The American people see the Republicans playing political games with their livelihoods.
The American people now know the Republicans are not serious about solving any issues. Their only interest is to obstruct Democrats.
I am so flabbergasted by this whole thing it took me some time to even form my rage into comprehensible thoughts. There was all this talk after the general election in politics that the Republicans were humbled and that they were going to change their ways or at least not be so overzealous in obstructing everything the Democrats wanted to do. That is clearly not the case.
The reality of the situation is that they are wounded toddlers. Angry and upset without the ability to comprehend what damage their actions do. The only thing they know is that they didn't get to do what they wanted. So now, they will make it their mission in life to make those that spanked them pay for it with every opportunity that arises regardless of the damage it does them or to America.
http://news.yahoo.com/debt-ceiling-debate-twist-sen-mitch-mcconnell-filibusters-233346015.html