Political Conspiracy Dooms Us To Failure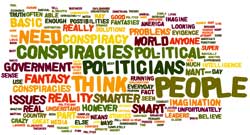 Perhaps one of the most invasive and destructive problems with today's politics is the amazing amount of radical conspiracies that crop up in main stream media. These ludicrous and often hilarious conspiracies should be laughed off, and once would have been. However, they now seem to be easily accepted as truth by everyday people. Our world, our country, and our lives are inundated with problems and troubles of the everyday sort and we should not be wasting our time with convoluted and often outright crazy conspiracy theories. We have enough basic political issues already that don't need to be further muddied by strange and bizarre conjurations of paranoia.
Now, I understand why conspiracies are so exciting and intriguing–I do. They speak to a fantastical part of our imagination, where wizards, dragons, and the Easter bunny reside. This is a part of our brain that we unfortunately are forced to push aside as we age. We all look back to our childhoods and think about the magic and awe that surrounded these fantasy stories of the unreal. Something in them touches each of us. It sets off something in our brains that allows us to imagine the possibilities.
In some ways this is good. This helps us to use our imagination and inspiration to test our world to see what is really real. Our imagination, and these fantasies can be a useful tool for us to think of possibilities that we otherwise may not consider.
However, if people start to imagine these fantasies could be real, they can begin to haunt us. It's important to keep reality and critical thinking as our guiding principles. We may convince ourselves that there are monsters under the bed. We might worry ourselves into ulcers. We would design our roofs in completely unreasonable ways to prevent once-a-year reindeer hoof damage.
I think many people want to believe these political conspiracies because they want to think that the people in charge of our government and our country are really, really smart. I think all of us want to have the best, the brightest, and the most altruistic people running our government. Politicians have to be smart to be able to handle the complex issues and stresses that come with political office, right? If they are as smart as we think they should be, it also means that they are smart enough to pull off elaborate conspiracies. That means they can orchestrate political conspiracies that involve decades of planning. They can organize and monitor thousands of people to ensure they don't tell anyone about the conspiracy.
Conspiracies can make a great novel or movie. But that is about all they are good for. The brutal fact of the matter is that these politicians we hope and pray are so much smarter and better then us aren't. The real fact is that they are no smarter then anyone else. The difference is, politicians are rich. If you could hire a PR firm to change people's perceptions of you, then you could seem much smarter, too!
Conspiracies help to give us confidence in our leaders as it attributes a great deal of unwarranted intelligence to them. However, in recent years I have seen little evidence that our politicians are smarter than anyone else. This is the truth that we the people need to understand and believe. The evidence is there and unfortunately our government and the politicians are about the exact opposite of super genius world-dominating supermen. We watch these politicians day in and day out while they attempt to conduct the business of running our government. They are so inept at it that we somehow, miraculously, think that they are actually doing it all on purpose as part of some super secret conspiracy. But they aren't. They are selfish, narcissistic, greedy, lying people that can't work together in the most basic sense.
People need to wake up and stop being distracted by these crazy conspiracy stories and ask themselves; "Can [insert crazy conspiracy theory here] be true when our elected and appointed officials cannot even perform the most basic functions of their jobs?" The answer of course, is no.
Conspiracies are based on fantasy instead of reality, and the solutions to our fantasy problems tend to be fantasy solutions. Our leaders need to be looking at the reality of America's issues and tackling them simply, basically, and up front. We have bogged ourselves down in a political, social, and economic quagmire, and we won't escape it until the people of America force the politicians, the media, and each other to return to looking at the world with reason and logic. We need to shift the focus to the basic reality of the world around us. We need to use common sense and the intelligence we do possess and put it towards the issues we face. Only then will we be able to improve America again.