In Debt or Indentured Part Nine: All the Issues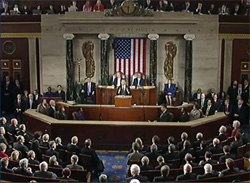 This is the ninth part of a multiple part series taking a deep dive into our current political and economic crisis in America. Partisan politics, unfettered corporate spending and recklessness along with a shift in our social acceptance of debt, is having far reaching and potentially devastating affects on our way of life, on the American Dream. With each installment we will take a closer look at some of the major pieces of this very complex puzzle and try to understand them and bring them into perspective. Use this opportunity to take a broader look on the political and social economic state of America and how each of us, as a small pieces of the puzzle, can make a difference.
In Debt or Indentured: All the Issues
With all of these issues hitting the American middle class, it can be easily seen how people can become distracted from looking at the big picture since the picture becomes so blurred through media and politics. There is also the amount of work Americans do, they are left with little time to invest in looking into the politicians that they elect. President George W. Bush said to a divorced mother of three in Omaha on February 4, 2005 "You work three jobs?  … Uniquely American, isn't it? I mean, that is fantastic that you're doing that". This should not be uniquely American to expect people to work three jobs and still barely get by. Not to mention, how much money does this struggling woman have to pay out of her three jobs to have her children looked after so she can work more? This is also an example of how politicians on both sides of the aisle think that Americans hard work is endless, yet the middle class does not demand change.
Is it audacious to think that the America middle class would demand remotely close the subsidies and tax breaks that industries and the wealthy receive currently from the government or be bailout by the government in the middle class' time of need? The American middle class worker barely has time to demand more than a thirty second sound-bite from the politician that they will vote for…if they vote at all. A tactical attempt has been made by those in the echelons power within the United States to divide the middle class and ensure that they are more focused on surviving day to day, paying their debt, and living in fear than being able to see through the smoke filled barrage of sound clips and view the entire picture. Not able to see or feel powerless to change a government that is not serving them. The American middle class must find the time to challenge the status quo and demand tangible changes that would directly better middle class families' everyday lives. To this point, instead of looking at the turmoil that middle class is experiencing, the American middle class is told they should not look for handouts from the government and they should take pride in pulling themselves up by their bootstraps (even though the entire financial system was bailed out to the tune of over a trillion dollars). The middle class instead is encouraged to spend more, even if that means going further into debt. An example of this was reported by Time Magazine's Justin Fox (Editorial director of Harvard Business Review Group and author) in 2009 about statements made by then President George W. Bush directly following the September 11, 2001 terrorist attacks where President Bush stated, "Take your families and enjoy life, the way you want to be enjoyed." Fox goes on to quote Boston University Historian Andrew Bacevich in his conclusion that "Bush seems to have calculated – cynically but correctly – that prolonging the credit fueled consumer binge could help keep complaints about his performance as Commander in Chief from becoming more than a nuisance." Politicians, Democrat and Republican, will put their own aspirations ahead of those of the country unless a conscious society, predominately made up of the middle class as the majority within America, is willing to hold them accountable for their actions and words.
Common ground must be found by all American middle class indentured servants in order to free themselves from the this unjust system that has been built to keep the middle class in perpetual debt and fear. The American middle class must put partisanship aside in a time when it has been developed to a fever pitch. Democrats and Republicans cannot look in hate towards their fellow middle class worker trying to survive just as they are. It is time to rise up and demand a change within this country, a time to retire the debt that has burdened on their backs and buried a generation. If common ground cannot be found in the form of the self preservation of the middle class and the redefining of what the American Dream consists of, there may be no hope for this experiment with a middle class in America. But if common can be found and the political muscle of the American middle class can be flexed politically to demand changes that will help them directly in the form of debt relief, tax relief, living wages, educational equality and affordability, common belief that health is a right and not a privilege, and that fear can no longer be a tool used to control the middle class. If this type of unity can be found and the political will demonstrated by the middle class, there can be a redistribution of power in this country and the United States of America will return to a nation governed for the people by the people.