In Debt or Indentured Part Four: Work Force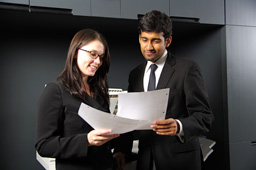 This is the forth part of a multiple part series taking a deep dive into our current political and economic crisis in America. Partisan politics, unfettered corporate spending and recklessness along with a shift in our social acceptance of debt, is having far reaching and potentially devastating affects on our way of life, on the American Dream. With each installment we will take a closer look at some of the major pieces of this very complex puzzle and try to understand them and bring them into perspective. Use this opportunity to take a broader look on the political and social economic state of America and how each of us, as a small pieces of the puzzle, can make a difference.
In Debt or Indentured: Work Force
The American middle class is facing this mountain of debt now with stagnant wages that have seen little to no increase in salary compared to the drastic increase in productivity. Frank Levy (professor of Urban Economics in the Massachusetts Institute of Technology Department of Urban Studies and Planning) and Tom Kochan (Professor of Management at MIT's Sloan School of Management and Co-Director of both the MIT Workplace Center) in partnership with the Employment Policy Research Network (group of 150 academic researchers from more than 50 universities in the United States, Canada and the United Kingdom) published a comprehensive look at the American middle class and how the effects of stagnation are impacting the middle class worker. Levy and Kochan clearly make the connection between the middle class's labor, wages, and belief in the American Dream when they summarize the current state of business as "The broken connection between labor and productivity growth and compensation growth for average workers has undermined mass upward mobility and the ideal of a growing middle class."In short, American workers are being asked to do more work for the same pay and expect to continue to grow financially within society. All three of the ideals cannot exist at the same time. Levy and Kochan describe the evolution of large American corporations as "increasing their economic power and political influence" through and after the 1970s. Levy and Kochan state that these changes in business practice and ideology have lead to:
[S]ubstantial legislative changes that deregulated major industries, liberalized banking rules, undercut labor-law enforcement and reform, prevented increases in the federal minimum wage, and fostered an ideology of free-market liberalism and the 'maximization of shareholder value' at the expense of other stakeholders. (p.4)
This has lead to a laissez-faire business environment that encourages corporate profits over anything else, including taking care of their employees, not just their executives. If the company can get more productivity out of less people…it will. If the organizations can require longer hours with no additional pay (salaried employees or moving to have a part time workforce)…it will. If a corporation can frighten and intimidate their employees out of collective bargaining…it definitely will. The strange thing about this radical movement by corporations is that it has been supported through legislation from the government and American middle class is still supportive in large numbers towards decreasing regulation for corporations favoring a belief in pure capitalism.
That's it for this part of In Debt or Indentured. We hope that this has given you some important things to think about. Use some of what you have learned here to look beyond the mere message our politicians are presenting to what the ramifications of these actions has on all of us Americans. Our country started down a slippery slope over a decade ago. We seemed to have stopped the free fall it had become, but do not fool yourself. We are still on the precipice of another long fall. Let's just hope we all can learn, and grow, from the last spill we took.
Check back soon for the next installment of In Debt or Indentured.