In Debt or Indentured Part Five: Mortgaging The American Dream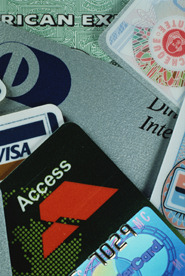 This is the fifth part of a multiple part series taking a deep dive into our current political and economic crisis in America. Partisan politics, unfettered corporate spending and recklessness along with a shift in our social acceptance of debt, is having far reaching and potentially devastating affects on our way of life, on the American Dream. With each installment we will take a closer look at some of the major pieces of this very complex puzzle and try to understand them and bring them into perspective. Use this opportunity to take a broader look on the political and social economic state of America and how each of us, as a small pieces of the puzzle, can make a difference.
In Debt or Indentured: Mortgaging The American Dream
The American middle class has been sold an American Dream built on a foundation of debt, that encourages more debt, looks to remove the negative stigma of debt, so more and more Americans will be lolled into its promises of have it now and paying later. Unfortunately, the pay later has emerged through time to mean pay, continue to pay, and acquire more debt while paying more towards the debt already acquired. This in turn has created a middle class caught in a revolving circle that requires to constant income to support their debt and to have further credit they must also have constant income. This on its face value does not sound outrageous, but there is another factor that has become the key ingredient in transforming this seemingly symbiotic relationship the middle class has developed with debt. This ingredient has transformed the middle classes relationship with debt into a parasitic one. That key ingredient is fear. Fear of being jobless. Fear of being without health insurance. Fear of being unable to pay the debts. Fear of for the children's future. Fear of not being able to keep up with the Jones's.
Throughout the 1980s through the 2000's the policy of Trickle Down Economics yielded no improvement for the American's working class but it saw the richest Americans take much more of the slice of American wealth. The argument for lowered taxes on the top 1% is that this will lead to job creation through investment but the data does not support this. Professor of Psychology and Sociology at the University of California Santa Cruz G. William Domhoff explains in his article "Who Rules America: Wealth, Income, and Power." Domhoff contends, "In the United States, wealth is highly concentrated in a relatively few hands." In America today only fifteen percent of the country's wealth is held by bottom eighty percent of workers (Domhoff). What is even more surprising is how few Americans seem to understand that there is a consolidation of wealth in America. Domhoff describes a Norton & Ariely 2010 study that ask over fifty-five hundred people to describe what they to be "the ideal wealth distribution" and a large consensus described a distribution "which the top 20% owned between 30 and 40 percent of the privately held wealth," this being well outside of "the 85 percent that the top 20% actually own." Domhoff continues the misconception of wealth distribution by surmising that those surveyed also believe "the bottom 40% — that's 120 million Americans — should have between 25% and 30%" of the wealth ideally but believed that this bottom forty percent have "8% to 10%" which is "far above the 0.3% they actually had." The information in this survey demonstrates how Americans have established an idea of how wealth is held in America but this idea is not reflected in the reality of power and wealth in America.
That's it for this part of In Debt or Indentured. We hope that this has given you some important things to think about. Use some of what you have learned here to look beyond the mere message our politicians are presenting to what the ramifications of these actions has on all of us Americans. Our country started down a slippery slope over a decade ago. We seemed to have stopped the free fall it had become, but do not fool yourself. We are still on the precipice of another long fall. Let's just hope we all can learn, and grow, from the last spill we took.
Check back soon for the next installment of In Debt or Indentured.