Disturbing Political Trend in Truth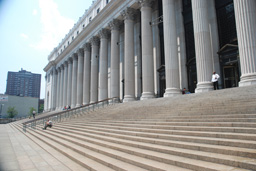 The closer we get to the 2012 Presidential Election the more crazy distortions of the truth I see. I know that perspectives are skewed and manipulated during the heated and often ugly run up to the general elections, but it seems like the preposterous rantings of what were once the loonies on the fringes are becoming the battle cries of the leaders of the parties.
Where once we frowned on unfounded accusations and scoffed at the baseless ramblings of the extremely paranoid or deranged, now we the people as a whole seem to latch onto them as truth, as brave, as somehow heroes that are standing up to some fantastical conceived threat.
I am not really sure how or why we have become so accepting of the blatant lies, abuse, misdirection, misinformation, and outright name calling that has become such a normal part of our everyday life.
Maybe it has been the years of dirty and low down politics. Maybe getting nasty every election became the new normal. We never got over the hateful rhetoric and over the years this strange morality creep gets worse and worse and we barely notice it.
It has gotten so bad that those who advocate these insane stances are held as the "truth bringers" and those that refute these idiotic statements are challenged to prove it's not true. However, no accusation, should be accepted as truth unless it is grounded in independently verifiable facts.
Take the whole Birther issue. Some far right fringe lunatics came up with this ridiculous idea and for some reason it gained so much traction that President Obama thought it necessary to take time out of dealing with American's real problems to present his birth certificate that clearly, without a doubt, proves that he is an American. Then, after months and months of these crazies saying all they need to do is see it, when they do see it, they still don't believe it.
Our society has allowed itself to be manipulated into focusing on whatever nonsense is going on right now instead of focusing on the very real and troubling issues that America faces.
I am shocked, appalled, and embarrassed to see so many Americans get caught up in this drama. I am not proud to say that I have also fallen victim to the insane crap these politicians and pundits are shoveling on us.
This is not going to stop until we as a nation stand up and shout to our politicians and pundits that all political discourse must be based on fact and reason, and hold our media accountable for covering the facts, not the crazies.
We also must make sure that we keep each other on track because it is so easy to get distracted by the little stuff, the crazy ramblings or the issues that simply do not exist. We need to watch each others' backs because our political system is not doing that now. We need to respectively and honestly work with each other to stay on track and stay on topic.
We have to look America, each other, and our political system objectively, factually, and critically for us to have any chance of growing as a nation.
We must not re-elect those that waste our time with nonsense. We must turn the channel, page, or URL when the media gives imagination more coverage than reality.
We need jobs and healthcare. Right now millions of Americans are without both.
We need fair and easy taxes. Right now income and taxation disparity between Americans is at a record high.
We need honesty and integrity within our society. Right now we allow the misinformation and lies to rot our core.
We need to have a prosperous and cutting edge America that is once again a contender for greatest nation in the world. Right now, we are falling short, terribly short, of what our forefathers had hoped for. We can't allow America to be that country that can only work together when things like 9/11 happen.
America's issues can be solved, but not until we all decide to be honest and respectful. We must pledge to have an open mind with everything we see and hear. We must vow to think objectively and critically.
I make this pledge to myself and to you. I ask that you do the same for yourself. Then together, regardless of sex, age, religion, or any other affiliation we can all push forward to a better, brighter America.