Chris Christie is the Right Kind of Right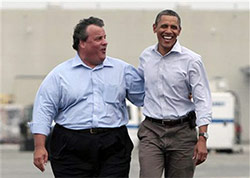 New Jersey Governor Chris Christie has displayed the type of leadership that every state would love. But after Superstorm Sandy, I'm sure that New Jersey is glad he is their leader. The Governor doesn't hesitate to put the needs of his constituents above his own political aspirations, and after the horrific damage the disaster did to his state, their needs are many.
When President Barack Obama went to New Jersey to see the damage for himself, the Governor had high praise for the GOP's Public Enemy Number One. He was appreciative of the President's work to help the state prepare before the storm hit, and was grateful for the President's compassion for the people of New Jersey afterwards, along with his pledge to help.  President Barack Obama returned the admiration, assuring the people of the state that Governor Christie was doing everything he could for his state.
So when Republican House Speaker John Boehner put off an end-of-the-year vote for a $60 million aid package that the Senate had already passed, the Governor was understandably upset.
Governor Christie pointed out that Katrina victims received aid after only 10 days, but residents of New York and New Jersey had been waiting 65 days as of January 3, 2013. Governor Christie blamed the House Republicans and John Boehner for the delay, and for playing politics with disaster relief. He pointed out that the American people are tired of partisanship in Washington, and he is right, we are overtired.
His backing of Mitt Romney's candidacy for President did not stop him from giving credit to the Democratic leader of the free world when it was earned, and his sense of duty to the people of his state is quite admirable.
If there is a leader in the US today who embodies the no-nonsense, do-the-right-thing leadership that is sorely lacking in this country, it is Chris Christie. It is baffling; however, why a leader would have to fight for what is right.