President Obama's State of the Union Address 2012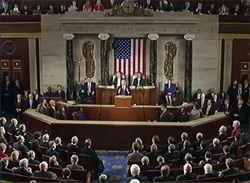 The President of the United States of America, Barack Obama, gave his 2012 State of the Union Address. Whether you love or hate President Obama, there is no denying that he knows how to give a great speech. President Obama is a very charismatic speaker using a great amount of intelligence and elegance when he speaks. Whether you agree or disagree with what he said last night does not change the fact that he is great at addressing America.
Watch the web enhanced video of the 2012 State of the Union Address

It's always interesting to see how the fact checkers rate these addresses. Not just the State of the Union Address but the many other speeches, policies, rallies and other promises that are made by politicians. They are so easily lost in the tumult that is politics that no regular person, like you and I, can keep track of it all. So I like to wait at least a day for all of the fact checking places to do their due diligence. Then I peruse through them to see what was real and was smoke. I urge everyone to take a few extra minutes and check several different sources yourself, especially about the political issues you care most about.
It turns out that on the scale of what was true and what is reality President Obama's State of the Union Address turns out to be mostly true! This is great news and a refreshing change of pace from the last administration. I always hate when we hear great promises or "facts" about what they have done or not done only to find out it was a thinly veiled attempt to earn favor, and far from the truth. Unfortunately, our first impressions are often the strongest. This means it is much harder for us to "unlearn" the lies we hear first instead of being able to believe the truth we learn later. Unfortunately this is widely known and is an often used tactic in politics. Know they use it, so you can guard yourself from it.
President Obama definitely covered the full gamut of issues that America is facing. There is a lot to talk about for sure and it will be interesting to see what, if any, action is actually taken. President Obama took a tougher stand last night during the State of the Union Address than we have seen before. We can only expect this "toughness" to increase over the course of the election year. I do appreciate that even though President Obama was talking tougher, he was still addressing everyone with respect and dignity. This is something that is unfortunately becoming more and more rare.
Formation of Committee to Investigate Misconduct of Big Oil and Wall Street
I think this was one of the biggest, most important announcements from the State of the Union Address, the formation of a Committee to formally investigate big corporations. If this actually happens, and actually gets to a place that they can actually do their job, it has the possibility to illuminate the insanity that our financial system and its corporations that puts on the people of American and the rest of the world. This decision alone could reach deep into the workings of our government and economy to expose the massive issues and broken systems that have brought the world economy to its knees. It amazes me how fast people have already forgotten how close we were to a calamity of massive proportions. Hopefully this will help to expose these issues and help us move forward to a solution in the future.
I know these are high hopes, look at how crippled some of the others have been. Tied up in the bureaucracy but more importantly the lobbyists pushing their congressman to fight against these common sense steps to a better America.
Combine the Citizen's United, political partisanship, election year politics and it will honestly be a miracle if anything gets done at all this year. However, I am still hopeful that something will be, or at least could be, accomplished. We have to keep on trying and keep on pushing forward. Contact your representative and urge them to action!